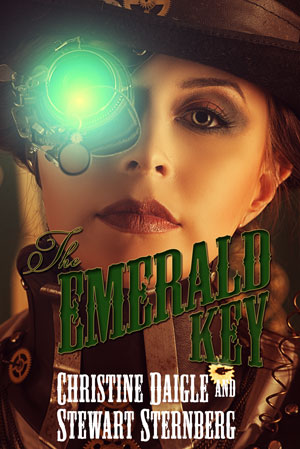 We're very pleased to reveal the latest cover from our in-house design team, for the forthcoming steampunk adventure novel The Emerald Key by Christine Daigle and Stewart Sternberg.
The Emerald Key is set in London in 1862 and blends alternate history with elements of horror, mystery and urban fantasy. The game is afoot and Ember Quatermain, the brilliant and courageous daughter of legendary explorer Allan Quatermain, must draw upon all of her abilities in order to save the day. Her path is fraught with dirigibles, necromancy, lamia, the lost tomb of a great ancient warrior king, and the charming and irresponsible Peter Styles.
Stewart Sternberg's first novel, The Ravening, was released in January 2011 through Elder Signs Press. His work has also found publication in a variety of anthologies (Chaosium Press, Mythos Books) and other venues including White Cat Magazine, and Susurrus.
Christine Daigle (formerly Purcell) is a writer, editor, steampunk enthusiast, and Scrabble demon. Her works have appeared in White Cat Magazine, the Fem-Fangs Anthology (Pill Hill Press), House of Horror, Orbis Quarterly International Literary Journal, Metro Baby, ESC! Magazine, The Copperfield Review, The Loch Raven Review, Third Reader, and other venues.
The novel will be available in June 2015. You can pre-order The Emerald Key at http://www.indiebooksonline.com/catalog/advanced_search_result.php?keywords=emerald
We're please to reveal the covers of two upcoming publications, Anna Tambour's collection The Finest Ass in the Universe and Hear Me Roar, 17 tales of real women and unreal worlds, edited by Liz Grzyb.
Both have been produced by our in-house team at Ticonderoga.
The image for The Finest Ass in the Universe is a close-up of a sigesbeckia flower, taken by Anna Tambour.
You can pre-order Hear Me Roar at http://www.indiebooksonline.com/catalog/product_info.php/products_id/196
Details for ordering The Finest Ass in the Universe will be available shortly.
Both titles will be available worldwide from August. Stay tuned for details of a sneak preview event in Melbourne in June.
---