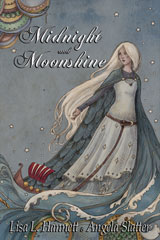 A huge and slightly belated congratulations to the incredible Kathleen Jennings on her recent Ditmar win for the cover artwork of Midnight and Moonshine, the much lauded collection by Lisa L. Hannett and Angela Slatter.
Kathleen's fabulous cover won the Best Professional Artwork Ditmar at the recent Australian National SF Convention, held in Canberra.
Midnight and Moonshine has picked up a number of accolades including a Publishers Weekly Starred Review and making the Locus Recommended Reading List, and we're really pleased Kathleen's cover has added to this list.
It's been a wonderfully busy month for us, and we're sorry we didn't get to highlighting this tremendous achievement sooner. It's the first Ditmar Award we've been associated with since 2008.
Want to find out what all the fuss is about Midnight and Moonshine? You can buy either of its editions from us at indiebooksonline or at just about any online good bookshop: Amazon, Barnes and Noble, Book Depository, just to name a few.
Our May 2013 releases are now in stock and shipping. We have three fantastic new titles: The Year of Ancient Ghosts, Dreaming of Djinn, and The Bride Price.
The Year of Ancient Ghosts, Kim Wilkins
Launched last week to a packed house in Brisbane's West End, Kim Wilkins' collection of five fantastic novellas is a unique SF exploration of medieval history. Features an introduction by Kate Forsyth and illustrations by James Blake.
Available as
Limited hardcover (100 copies signed by all contributors) $75
---
Dreaming of Djinn, edited by Liz Grzyb
18 new tales of the Arabian nights, an anthology of fabulous Orientalist pantomime.Stories by Marilag Angway, Cherith Baldry, Alan Baxter, Jenny Blackford, Jetse de Vries, Thoraiya Dyer, Joshua Gage, Richard Harland, Faith Mudge, Havva Murat, Charlotte Nash, Anthony Panegyres, Dan Rabarts, Angela Rega, Jenny Schwartz, Barb Siples, Pia Van Ravestein, DC White.
"It will ravish your senses as it transports you to a world of flying carpets, powerful ifrits, exotic foods and above all, dancing as deadly as it is beautiful." - Isobelle Carmody

Available as
---
The Bride Price, Cat Sparks
The long overdue debut collection from the multiple award-winning Cat Sparks. The Bride Price collects 13 powerful stories. Features an introduction by Sean Williams. "Readers looking for random acts of kindness would do well to look elsewhere; fans of beautifully staged scenes of despair will find a wealth of them here." - Publishers Weekly

Available as
Limited hardcover (100 copies signed by all contributors) $75
Our trade hardcover and paperback editions are also available online through Amazon, Barnes and Noble, The Book Depository and everywhere good books are sold.