This anthology, with the working title Hear Me Roar, is looking at kick-arse chicks of all varieties in a speculative fiction world – female superheroes, scientists, subversives and rulers. We want character-driven stories with strong female protagonists.
The stories can be any variety of speculative fiction: science fiction, fantasy, horror, paranormal romance, urban fantasy or a mix.
We are not looking for stories where women are objectified, where there is gratuitous gore or erotica.
The anthology will be edited by Liz Grzyb, award-winning editor of eight anthologies including The Year's Best Australian Fantasy and Horror, and will be published by Ticonderoga Publications in 2015.
Submission guidelines
Send me your best speculative fiction story featuring strong women.
Story length 2,500 to 7,500 words. (Longer stories may be accepted, although payment is capped at 7,500).
Original stories only: no reprints, multiple, or simultaneous submissions.
Stories may be submitted via email at

This email address is being protected from spambots. You need JavaScript enabled to view it.

in .doc or .rtf format.
Manuscript format: double spaced, large margins, sensible serif font, Australian English spelling.
Submissions period open: 21 April – 5 November 2014.
Payment: 2 copies of print anthology and Aus 2.5 cents/word (GST inc., maximum payment $187.50) on publication.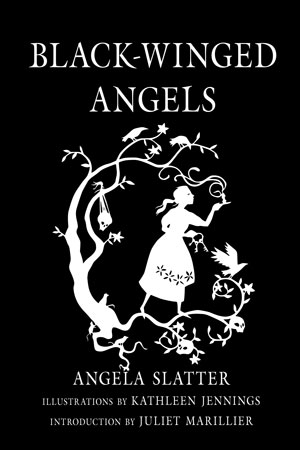 Ticonderoga Publications is thrilled to announce the forthcoming publication of British Fantasy Award winning Angela Slatter's Black-Winged Angels.
Black-Winged Angels is a collection of 10 incredible contemporary retellings of fairy tales, and will be available in a limited hardcover edition illustrated by the multiple World Fantasy Award nominated Kathleen Jennings.
The collection will feature an introduction by the multiple award-winning Juliet Marillier and be published in August 2014.
Black-Winged Angels comprises ten reworked/reloaded fairytales for adult readers, several available for the first time in Australia.
The book will appeal to fans of Angela Carter ("The Company of Wolves") and Emma Donoghue ("Kissing the Witch").
Angela Slatter's previous Ticonderoga collection, The Girl With No Hands and Other Tales, won the Aurealis Award while her co-authored Midnight and Moonshine collection (with Lisa L. Hannett) made the Locus Recommended Reading List for 2012.
"I'm so delighted to be working with Ticonderoga Publications again to give these stories a very special second life," says Angela Slatter. "Being able to have Juliet Marillier introduce the collection and Kathleen Jennings to illustrate it is the best gift a writer can get!"
Black-Winged Angels will be published as a limited hardcover edition of 250 copies signed by all contributors.
The collection is available for pre-order at www.indiebooksonline.com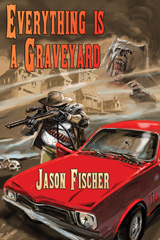 Jason Fischer's debut collection Everything is a Graveyard get a very thorough review by Jeff Ritchie at Scary Minds. In addition to its rating of 10/10, we are chuffed to read
"...arguably the best release of tales to chill by this year. A very solid collection of post apocalyptic stories that have a uniqueness about them that will provide you with hours of entertainment..."
You can read the full review at http://scaryminds.com/reviews/2013/book182.php
Everything is a Graveyard is available in three editions
We're incredibly pleased to start 2014 by announcing the contents for our forthcoming steampunk romance anthology Kisses by Clockwork. Edited by Liz Grzyb, Kisses by Clockwork will be published in April.
Contributing to its 105,000 words are
Marilag Angway

, "

Smuggler's Deal"
Cherith Baldry

, "

The Venetian Cat"
Gio Clairval

, "

The Writing Cembalo"
M L D Curelas

, "

Ironclad"
Ray Dean

, "

Practically Perfect"
Stephanie Gunn

, "

Escapement"
Richard Harland

, "

The Kiss of Reba Maul"
Rebecca Harwell

, "

Love in the Time of Clockwork Horses"
Faith Mudge

, "

Descension"
Nicole Murphy

, "

The Wild Colonial Clockwork Boy"
Katrina Nicholson

, "

Lady Presto Magnifico and the Disappearing Glass Ceiling"
Anthony Panegyres

, "

The Tic-Toc Boy of Constantinople"
Amanda Pillar

, "

A Clockwork Heart"
Angela Rega

, "

The Law of Love"
Carol Ryles

, "

Siri and the Chaos-Maker"
DC White

, "

South, to Glory"
Congratulations to all of the above writers. Liz had an incredible challenge finalising these stories from a shortlist of almost twice this.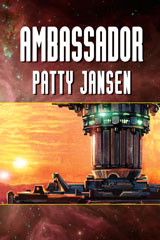 "The President was alive. I was alive. No idea what the hell had just happened, other than that I was simply alive, and glad of it."
Nations of Earth Ambassador Cory Wilson had thought the hardest part of his role would be mastering the many intricacies of gamra pronouns. Then the President is shot in front of him, and all clues point to extraterrestrial agencies.
Only the truth will prevent the conflict escalating, but to find it, Cory has to challenge the very top of the Coldi hierarchy, in a society where the simple act of looking someone in the eye or using the wrong pronouns can mean the difference between life and death.
--
Patty Jansen's incredible science fiction thriller, featuring interplanetary intrigue, unearthly greed, interstellar romance, and an ambassador from New Zealand is now shipping in three editions.
Ambassador is also available in all good online bookshops worldwide.
We are incredibly pleased to announce that editors Liz Grzyb and Talie Helene have signed on to produce another three annual volumes of The Year's Best Australian Fantasy and Horror.
These volumes shall see the series continue until at least 2016, comprising the very best antipodean stories from 2015.
The first of these new volumes, covering stories published in 2013, is now open for submissions.
The deadline for submissions is 31 January 2014.
Eligibility Guidelines
Stories should have a listed author who is a citizen, resident or otherwise be recognised as having significant ties to Australia and/or New Zealand.
Stories must have been published between 1 January and 31 December 2013.
Stories must be received by the editors by the deadline.
Stories should be no longer than 8,500 words in length.
The editors will accept photocopies of eligible stories and electronic copies. If you have any queries please contact the relevant editor via the email address provided.
Stories should be available in electronic format to be selected for inclusion.
Decisions made by editors are final and no correspondence shall be entered into.
Please note that while the editors do read widely, they are relying on writers to assist them by sending copies of their stories. This is the best way to ensure that stories do not get overlooked.
Expected Publication Date June 2013

FANTASY SUBMISSIONS
Post to
Liz Grzyb
Year's Best Fantasy and Horror
PO Box 29
Greenwood WA 6924
email queries This email address is being protected from spambots. You need JavaScript enabled to view it.
HORROR SUBMISSIONS
Post to
Talie Helene
Year's Best Fantasy and Horror
PO Box 2553
Ringwood North VIC 3134
email queries This email address is being protected from spambots. You need JavaScript enabled to view it.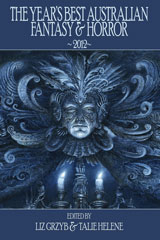 With the next volume of The Year's Best Australian Fantasy and Horror (2012) off to the printers, we can reveal Liz Grzyb's and Talie Helene's Recommended Reading List.
Joanne Anderton, "High Density", Andromeda Spaceways Inflight Magazine #53
——— "The Bone Chime Song", Light Touch Paper Stand Clear
Daniel Baker, "At The Crossroads", Aurealis #51
Alan Baxter, "Cephalopoda Obsessia", Bloodstones
——— "Crossroads and Carousels", The Red Penny Papers
——— "Fear is the Sin", From Stage Door Shadows
——— and Felicity Dowker, "Burning, Always Burning",
Damnation and Dames,
Eddy Burger, "Domestic Berserker", Dark Edifice 3
Jenny Blackford, "The Sacrifice", Aurealis #47
James Bradley, "Beauty's Sister", Penguin
Isobelle Carmody, "The Wolf Prince", Metro Winds
——— "Metro Winds", Metro Winds
Jay Caselberg, "Blind Pig", Damnation and Dames
Steve Cameron, "If You Give This Girl a Ride", Cover of Darkness 11
David Conyers and Brian M. Sammons, "The R'lyeh Singularity", Cthulhu Unbound 3.
Terry Dowling , "Mariners' Round", Postscripts 28/29: Exotic Gothic 4
——— "The Way the Red Clown Hunts You", Subterranean, Winter 2012
Thoraiya Dyer, "The Second Card Of The Major Arcana", Apex
——— "Faet's Fire", Light Touch Paper, Stand Clear
——— "Surviving Film", Bloodstones
Jacob Edwards, "Salt & Pepper", Polluto 9¾: Witchfinders Vs The Evil Red
Marina Finlayson, "The Family Business", Andromeda Spaceways Inflight Magazine #55
Joanna Galbraith, "The Keeper's Heart", The Coloured Lens #3
Michelle Goldsmith, "The Hound of Henry Hortinger", Pandemonium: Stories of the Smoke
"The Skin of the World", Stephanie Gunn, Bloodstones
——— "Ghosts", Epilogue
Lisa L. Hannett, Angela Slatter, "The Red Wedding", Midnight and Moonshine
——— "Warp And Weft", Midnight and Moonshine
——— "Prohibition Blues", Damnation and Dames
Richard Harland, "A Mother's Love", Bloodstones
Narrelle M. Harris, "Thrall", Showtime
Robert Hood, "Escena de un Asesinato", Postscripts 28/29: Exotic Gothic 4
——— "Walking the Dead Beat", Damnation and Dames
Deborah Kalin, "First They Came . . .", Andromeda Spaceways Inflight Magazine #55
Pete Kempshall, "Dead Inside", Bloodstones
——— "Sound and Fury", Damnation and Dames
Margo Lanagan, "Isles Of The Sun", Cracklescape
——— "Titty Anne and the Very, Very Hairy Man", Meanjin, Volume 71, Number 4.
——— "Significant Dust", Cracklescape
——— "Bajazzle", Cracklescape
S. G. Larner, "Duck Creek Road", Bloody Parchment: Hidden Things, Lost Things and other stories
Martin Livings, "Birthday Suit", Living with the Dead
——— "The Ar-Dub", Living with the Dead
Tracie McBride, "Drive, She Said", Lovecraft eZine 14
Andrew J. McKiernan, "They Don't Know That We Know What They Know", Midnight Echo 8
——— "The Final Degustation of Doctor Ernest Blenheim", Midnight Echo 7
Kelly Matsuura, "Hours on the Voodoo Clock", Free Flash Fiction
Nicole Murphy, "Euryale", Bloodstones
Jason Nahrung, "The Mornington Ride", Epilogue
——— "Breaking the Wire", Aurealis #47
Ian Nichols, "In the Dark", Apex Magazine 37
Shauna O'Meara, "Blood Lillies", Midnight Echo 8
Christopher Sequeria, "The Adventure of the Lost Specialist", Sherlock Holmes: The Crossovers Casebook
Helen Stubbs, "Sayuri's Revenge", Tales From the Bell Club
Anna Tambour, "King Wolf", A Season in Carcosa
Kaaron Warren, "The Pickwick Syndrome", Stories Of The Smoke
——— "Sky", Through Splintered Walls
——— "Creek", Through Splintered Walls
——— "The Lighthouse Keepers' Club", Postscripts 28/29: Exotic Gothic 4
Order a copy of The Year's Best Australian Fantasy and Horror 2012 at indiebooksonline -- 492 pages of awesome goodness!
Tradepaperback $35 http://www.indiebooksonline.com/catalog/product_info.php/products_id/153
Hardcover $55 http://www.indiebooksonline.com/catalog/product_info.php/products_id/152
Andrew McKiernan at Thirteen O'clock has reviewed Bloodstones, edited by Amanda Pillar. We're quite chuffed when he says
on the strength of just a few stories alone I would certainly recommend Bloodstones for readers looking for more in their horror fiction
You can read the full review at http://www.thirteenoclock.com.au/bloodstones-edited-by-amanda-pillar-review/
Bloodstones is available in
hardcover http://www.indiebooksonline.com/catalog/product_info.php/products_id/138
tradepaperback http://www.indiebooksonline.com/catalog/product_info.php/products_id/137