A sneak preview of three titles to end the year.
We'll have more details soon. All the above, and all of our available titles, may be ordered at indiebooksonline.com.


A new anthology edited by Amanda Pillar
Blood will tell... blood holds memory... blood is sacrifice... blood is thicker than water... blood is life.
Bloodlines will feature non-traditional horror stories, which take place in an urban fantasy setting. Give me stories about creatures that need blood to live, or blood to do magic, or whose blood is magic. Witches, shamans, faeries, ancient gods and humans can feature in this collection, so long as your story exudes magic and mystery. So long as you enchant me.
As for the nitty-gritties:
No science fiction stories will be accepted;
Romance is acceptable, as long as the story is dark and has horrific themes/elements;
Do not send stories written in the second person;
While vampire stories can be submitted, please note that it would be in your best interests to wow me with something other than vampires.
Lastly, the story must be on theme and meet the above guidelines. It must have blood (its need, use, potency etc.) as a major focus. If it does not, your story will be rejected.
The anthology will be published by Ticonderoga Publications in late 2014/early 2015.
Submission guidelines:
Send me your best dark urban fantasy story.
Story length 1,000 to 7,500 words.
Original stories only: no reprints, multiple, or simultaneous submissions (please only submit one story).
Stories may be submitted via email at

This email address is being protected from spambots. You need JavaScript enabled to view it.

.
Manuscript format: double spaced, large margins, Times New Roman font, Australian English spelling.
The editor reserves the right to use their discretion in selecting stories.
Submission period: 1 August 2014 to 15 October 2014
Payment: 2 copies of anthology and Aus 2 cents/word (GST inc., maximum payment $150) on publication.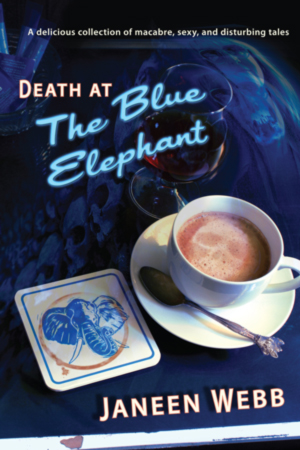 We're overjoyed to announce and reveal Janeen Webb's forthcoming collection Death at the Blue Elephant.
Cover design is by the incredible Nick Stathopolous.
Death at the Blue Elephant is the first story collection by the respected and multiple award winning Australian writer and editor Janeen Webb. She is a recipient of the World Fantasy Award, the Peter MacNamara SF Achievement Award, the Australian Aurealis Award, and is a three-time winner of the Ditmar Award. In her introduction to this book, Pamela Sargent describes these stories as evoking a "combination of suspenseful anticipation, nervous apprehension, and total absorption in something far removed from my own experience". Death at the Blue Elephant collects 18 incredible globe-spanning visions by the self-confessed 'inveterate traveller'. Five stories are original to this collection.
There's magic here, and illusion, and strange wonders that'll surprise and delight. — Robert Shearman
Exotic, cunning—often funny—and now and then edges to cut yourself on. — Tanith Lee
Gloriously adult, these stories will transport you—but they'll never drop you home. — Anna Tambour
Janeen Webb's assemblage of angels, aliens, devils and assorted revenants bring with them compassion and settings rich and exotic where even the mundanity of our everyday world is imbued with a sparkle rarely glimpsed in the hands of lesser writers. — Peter Crowther
Sneak preview launch in June, and available everywhere in the second half of 2014. You can preorder at indiebooksonline:
http://www.indiebooksonline.com/catalog/advanced_search_result.php?keywords=elephant&x=0&y=0