At the 52nd National Science Fiction Convention, Conflux 9, held in Canberra, Ticonderoga founder Russell B. Farr was the recipient of one of the highest honours in Australian Science Fiction, the A. Bertram Chandler Award for "Outstanding achievement in Australian Science Fiction".
The A. Bertram Chandler Award was first presented in 1992 to Van Ikin, and Russell is the 17th recipient of this award.
--
Ticonderoga exists and continues to thrive due to the incredible support we continue to receive from family, friends, and the Australian SF community. Each of our books contain a page thanking many of the individuals and groups who have contributed to this success, and in this case, this unbelievable recognition. We'd like to take this opportunity to reproduce our most recent list,
Elizabeth Grzyb, Sean Williams, Cat Sparks, Kim Wilkins, Kate Forsyth, Jonathan Strahan, Peter McNamara, Ellen Datlow, Grant Stone, Jeremy G. Byrne, Garth Nix, David Cake, Simon Oxwell, Grant Watson, Sue Manning, Steven Utley, Bill Congreve, Jack Dann, Jenny Blackford, Simon Brown, Stephen Dedman, Sara Douglass, Felicity Dowker, Terry Dowling, Jason Fischer, Lisa L. Hannett, Pete Kempshall, Ian McHugh, Angela Rega, Angela Slatter, Lucy Sussex, Kaaron Warren, the Mt Lawley Mafia, the Nedlands Yakuza, Amanda Pillar, Shane Jiraiya Cummings, Angela Challis, Talie Helene, Donna Maree Hanson, Kate Williams, Andrew Williams, Kathryn Linge, Al Chan, Alisa and Tehani, Mel & Phil, Hayley Lane, Georgina Walpole, everyone we've missed . . .
. . . and you.
--
Russell would also like to thank the Australian Science Fiction Foundation for all of their work in continuing to support science fiction in Australia and for their support and administration of the A Bertram Chandler Award.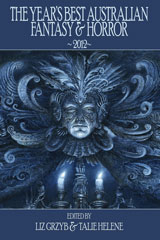 We're really happy to be able to announce the final line-up of the third volume of The Year's Best Australian Fantasy and Horror.
Liz Grzyb and Talie Helene have compiled 34 fantastic stories and poems first published in 2012, from New Zealand's and Australia's finest writers.
The contents are
Joanne Anderton, "Tied To The Waste", Tales Of Talisman
R.J. Astruc, "The Cook of Pearl House, A Malay Sailor by the Name of Maurice", Dark Edifice 2
Lee Battersby, "Comfort Ghost", Andromeda Spaceways Inflight Magazine 56
Alan Baxter, "Tiny Lives", Daily Science Fiction
Jenny Blackford, "A Moveable Feast", Bloodstones
Eddy Burger, "The Witch's Wardrobe", Dark Edifice 3
Isobelle Carmody, "The Stone Witch", Under My Hat
Jay Caselberg, "Beautiful", The Washington Pastime
Stephen Dedman, "The Fall", Exotic Gothic 4, Postscripts
Felicity Dowker, "To Wish On A Clockwork Heart", Bread And Circuses
Terry Dowling, "Nightside Eye", Cemetary Dance
Tom Dullemond, "Population Management", Danse Macabre
Thoraiya Dyer, "Sleeping Beauty", Epilogue
Will Elliot, "Hungry Man", The One That Got Away

Jason Fischer, "Pigroot Flat", Midnight Echo 8
Dirk Flinthart, "The Bull In Winter", Bloodstones
Lisa L. Hannett, "Sweet Subtleties", Clarkesworld
Lisa L. Hannett & Angela Slatter, "Bella Beaufort Goes To War", Midnight And Moonshine
Narrelle M. Harris, "Stalemate", Showtime
Kathleen Jennings, "Kindling", Light Touch Paper, Stand Clear
Gary Kemble, "Saturday Night at the Milkbar", Midnight Echo 7
Margo Lanagan, "Crow And Caper, Caper And Crow", Under My Hat
Martin Livings, "You Ain't Heard Nothing Yet", Living With The Dead
Penelope Love, "A Small Bad Thing", Bloodstones
Andrew J. McKiernan, "Torch Song", From Stage Door Shadows
Karen Maric, "Anvil Of The Sun", Aurealis
Faith Mudge, "Oracle's Tower", To Spin A Darker Stair
Nicole Murphy, "The Black Star Killer", Damnation And Dames
Jason Nahrung, "The Last Boat To Eden", Surviving The End
Tansy Rayner Roberts, "What Books Survive", Epilogue
Angela Slatter, "Jimmy Dean, Jimmy Dean", This Is Horror Webzine
Anna Tambour, "The Dog Who Wished He'd Never Heard Of Lovecraft", Lovecraft Zine
Kyla Ward, "The Loquacious Cadaver", The Lion And The Aardvark: Aesop's Modern Fables
Kaaron Warren, "River Of Memory", Zombies Vs. Robots
In addition to the above incredible tales, the volume will include a review of 2012 and a list of highly recommended stories.
The editors will shortly begin reading for the fourth volume of The Year's Best Australian Fantasy and Horror.
The Year's Best Australian Fantasy and Horror 2012 is scheduled for publication in July 2013 and can be pre-ordered at indiebooksonline.com. The anthology will be available in hardcover, ebook and trade editions.
--
Edit 22/04/2013: Our original post credited The Apex Book of World SF 2 for the first appearance of Will Elliott's "Hungry Man". We have now amended this to reflect it's true first publication. Apologies to all concerned.