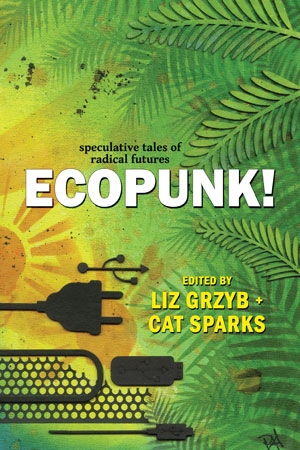 We're really pleased to be able to reveal the cover of Liz Grzyb and Cat Sparks' forthcoing Ecopunk! anthology.
The artwork is by Peg Hewitt (pegsplaytime.blogspot.com.au).
Ecopunk! - speculative tales of radical futures contains 19 optimistic tales, selected by two award-winning editors, showing how humanity can survive and flourish, despite the looming uncertainty from climate change. The incredible line-up includes some of Australia's best science fiction writers.
Adam Browne, "The Radiolarian Violin"
Matthew Chrulew, "Future Perfect"
Emilie Collyer, "From the Dark"
Jason Fischer, "Milk and Honey"
Tom Guerney, "The Mangrove Maker"
Claire McKenna, "Mr. Mycelium"
R. Jean Mathieu, "The City Sunk, the City Risen"
D.K. Mok, "The Wandering Library"
Jason Nahrung, "The Today Home"
Ian Nichols, "First Flight"
Shauna O'Meara, "Island Green"
Rivqa Rafael, "Trivalent"
Jane Rawson, "The Right Side of History"
Jane Routley, "The Scent of Betrayal"
Andrew Sullivan, "The Butterfly Whisperer"
Janeen Webb, "Monkey Business"
Corey J. White, "Happy Hunting Ground"
Tess Williams, "Broad Church"
Marian Womack, "Pink Footed"
Ecopunk! will be published in October 2017 by Ticonderoga Publications. Keep an eye on our website for more news.
Ticonderoga Publications is incredibly pleased to announce the forthcoming awesome original collection by two of Australia's most respected fantasy writers, Kate Forsyth and Kim Wilkins.
The Silver Well is a collaborative collection of seven never-before published stories, and will be released in November 2017.
The collection will feature illustrations and cover by the multiple award-winning Kathleen Jennings, and an introduction by Lisa L. Hannett.
The Silver Well marks a milestone achievement for two best-selling legends of Australian fantasy, having both published their first novels in 1997.
One English village. Two thousand years of stories.

People have always come to make wishes at the Silver Well: in Pagan times and Christian, during revolution and war. When Rosie arrives in the tiny village of Cerne Abbas with a broken heart, she becomes connected across the centuries with others who have yearned for something. Seven stories, set in seven time periods, reveal the deepest longings of the human heart.
The Silver Well will be available as limited hardcover, trade hardcover, trade paperback, and ebook and can be pre-ordered at http://bookshop.ticonderogapublications.com/product/the-silver-well/

After many years the time has come to say goodbye to our long-suffering online bookshop, indiebooksonline. Sadly, it was getting old and was taking too much effort to keep patched.
We have built a new bookshop, http://bookshop.ticonderogapublications.com/, and invite you all to come along and check it out. While you're there, you may get a sneak preview of a title we haven't formally announced yet!
Thank you to everyone who has been a part of indiebooksonline over the years.