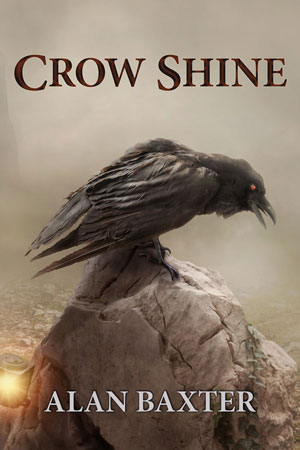 Ticonderoga Publications is excited to announce the signing of Alan Baxter's debut collection Crow Shine.
Crow Shine is scheduled for publication in September 2016.
The dark fantasy collection features 19 stories, including the Australian Shadows Award-winning "Shadows of the Lonely Dead"; and original title story "Crow Shine" in addition to two other never before published stories.
"Alan Baxter is rapidly becoming one of Australia's premier dark fantasists, and Crow Shine showcases some incredible work," Ticonderoga Editor Russell B Farr said.
"While his stories can be dark, they also show an incredible respect for the human condition, and each one enriches the reader," Russell B Farr added.
"I'm so pleased to work with Ticonderoga on this book," Alan Baxter said. "I can't imagine anyone who would do a better job. It's really exciting to see so many years of my dark weird work collected like this."
The sale was made via Alex Adsett of Alex Adsett Publishing Services.
Alan Baxter is the author of the dark urban fantasy trilogy, Bound, Obsidian, and Abduction (The Alex Caine Series) published by HarperVoyager Australia, and the dark urban fantasy duology, RealmShift and MageSign (The Balance 1 and 2) from Gryphonwood Press. His short fiction has appeared in The Magazine of Fantasy & Science Fiction, Beneath Ceaseless Skies, Daily Science Fiction, Postscripts, and Midnight Echo, among many others, and more than twenty anthologies, including the Year's Best Australian Fantasy & Horror (2010, 2012 and 2014). He has been a finalist in the Aurealis Awards, and a five-time finalist in the Ditmar Awards. He won the 2014 Australian Shadows Award for Best Short Story ("Shadows of the Lonely Dead") and the 2015 Australian Shadows Paul Haines Award For Long Fiction ("In Vaulted Halls Entombed").
Ticonderoga Publications is a multiple award-winning independent press based in Greenwood, Western Australia. Founded in 1996, in 20 years Ticonderoga have published over fifty titles.
Crown Shine is scheduled for publication in late 2016. The collection will be available in limited edition hardcover, hardcover, ebook, and trade editions.
Links