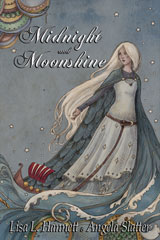 The February issue of Locus (#625) has a double treat for Hannett and Slatter's Midnight and Moonshine.
First, Farren Miller gives the book a great review. We're especially happy to read
Another kind of combination gives this book its unique tone: however grand the fantasy, passionate the romance, or regally exotic these Fae, their stories inevitably take on some of the gritty frankness, spilled blood, and shit of ordinary human life.
You can read the full review in Locus.
And then, turning to the 2012 Year in Review, Midnight and Moonshine makes their Recommended Reading List. We're incredibly happy at this much-deserved achievement for a fantastic book.
You can order this wonderful collection at any good bookstore, or directly from us at http://www.indiebooksonline.com/catalog/product_info.php?products_id=122