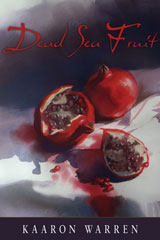 Over 110,000 words of fiction from talented, multiple award-winning writer Kaaron Warren. Includes the Aurealis Award-winning stories "The Grinding House", "Fresh Young Widow" and "A Positive". Twenty-six powerful tales that will amaze any fan of the fantastic.
Introduction by Lucius Shepard. Also available in a limited hardcover edition signed by all contributors.
Winner of the Canberra Critics Circle Award.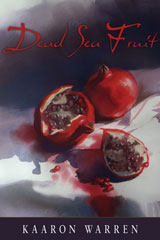 Guy Salvidge reviews Kaaron Warren's Dead Sea Fruit and says many fine things about it. We're especially happy when he says:
Dead Sea Fruit came as a complete surprise to me. I  expect every single author collection published in this country to be good, but not this good. You owe it to yourself to give Dead Sea Fruit your full attention if you haven't already.
You can read the full review at http://guysalvidge.wordpress.com/2011/11/30/book-review-dead-sea-fruit-by-kaaron-warren/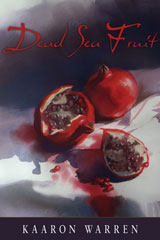 Woke up delighted to hear that Kaaron Warren's magnificent collection Dead Sea Fruit has been shortlisted for the Fiction category of the ACT Writing and Publishing Awards. The winner will be announced 14 December. Good Luck Kaaron!
Harry Markov writes a stunning review of Kaaron Warren's Dead Sea Fruit over at Pornokitsch:
her collection Dead Sea Fruit, even as delightful as it was, challenges me as a reviewer, mainly because of Warren's unwillingness to settle for a comfort zone. I voice this as a compliment, rather than a complaint, since all the stories allow the reader to discover Warren, a writer who is always in a state of flux and in search of the next story, wherever it might be hiding.
You can read the rest of the review here. (While we can't vouch for anything else at this site, this review is definitely safe for all ages to read.)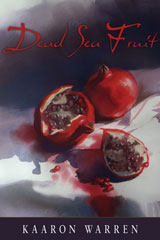 Kaaron Warren's Dead Sea Fruit has been listed as one of the Phillipines Online Chronicle's All Hallow's Eve Reads. Warren's collection is listed among works by Margo Lanagan and Joe Hill. The full list is at http://www.thepoc.net/thepoc-features/metakritiko/metakritiko-opinions/13943-all-hallows-eve-reads-international-edition-.html
The Canberra Times' Colin Steele reviews Dead Sea Fruit and has this to say:
Ticonderoga Publications is an excellent small Western Australian publishing house. Dead Sea Fruit collects twenty-seven stories from award-winning Canberra author Kaaron Warren, ranging from already critically acclaimed pieces, such as "The Grinding House" and "Fresh Young Widow"  to new stories such as "Sins of the Ancestors" and "The Coral Gatherer". American writer Lucius Shepard deftly introduces Warren's dark unsettling stories, with their  "bleak dream logic", while Warren herself provides very useful background to each story in her afterword. Warren is one of our best dark fantasy writers.
(From Sunday Canberra Times, 30/01/11)