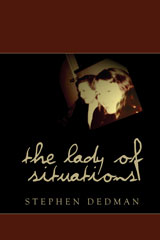 The Lady of Situations is a collection of thirteen stories from the award-winning Australian writer.
"Dedman's stories have an evocative life beyond what is simply written. His style -- engaging, lucid, never obscure but nevertheless allusive and richly evocative -- is perfectly suited to a range of themes, genre tropes and structures." - SF Site
Includes interstitial material by Sean Williams, Simon Brown, Van Ikin and Robin Pen.
Reprint of Ticonderoga's sold out 1999 edition.
2nd edition of sold out 1999 collection, first published by Ticonderoga Publications.
Contents
Foreword: Van Ikin
Introduction: Flogging a Dead Horse, Sean Williams & Mark Radium
"The Lady of Situations"
"Amendment"
"Never Seen by Waking Eyes"
"A Single Shadow"
"Transit"
"Double Action"
"Founding Fathers"
"Salvation"
"The Godfather Paradox"
"A Sort of Walking Miracle"
"The Vision of a Vanished Good"
"Bestseller"
"From Whom All Blessings Flow"
Afterword: Twenty Views of Hokusai, Robin Pen
Editions
Hardcover Edition. RRP $50 AUD. ISBN 978-0-9803531-7-4. Available from indiebooksonline.com
Regular Trade Edition. RRP $30 AUD. ISBN 978-0-9803531-8-1.