We're pleased to be able to reveal the cover for the 2011 edition of The Year's Best Australian Fantasy & Horror.
The editors are busily finalising the contents listing and we look forward to revealing this when available.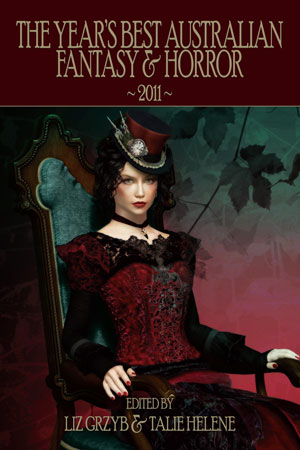 Ticonderoga Publications is excited to announce the signing of a novel by Writer of the Future Patty Jansen.
The science-fiction thriller, Ambassador, is scheduled for publication in August 2013.
"Patty Jansen's novel is a great blend of science fiction, political intrigue and thriller, and we're really happy to be able to publish Ambassador," Ticonderoga Editor Russell B Farr said.
"Patty Jansen is an exciting writer to watch," Russell B Farr added.
Patty Jansen is a member of SFWA and winner of the second quarter of the Writers of the Future contest. As well as in volume 27 of the contest, In 2012, her fiction will appear in Analog Science Fiction and Fact, and has been published in various magazines such as Redstone SF and the Universe Annex of the Grantville Gazette. Patty has a PhD in science and lives in Sydney, Australia.
Ambassador is a science fiction thriller, featuring interplanetary intrigue, unearthly greed, interstellar romance, and an ambassador from New Zealand.
The novel is scheduled for publication in August 2013. The book will be available in limited edition hardcover, trade hardcover and paperback editions.