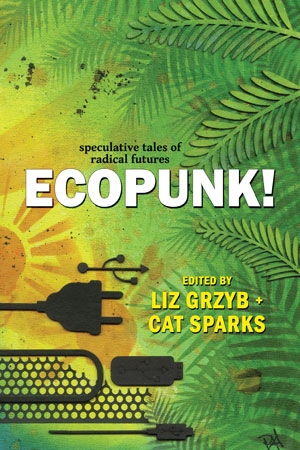 Over coming weeks we'll have a series of mini interviews ("minterviews" if you will) with some of the awesome writers in our forthcoming Ecopunk! (check it out on kickstarter http://kck.st/2xGeJ9x)
First up is Rivqa Rafael. Rivqa is a freelance editor and writer based in Sydney. She started writing speculative fiction well before earning degrees in science and writing, although they have probably helped. Her editorial specialties are health and science in all forms (magazines, books, academia and custom publications); she also writes reviews and articles.
1. Tell us a little about your Ecopunk! story, and the inspiration behind it.
I've wanted to set a story in Far-North Queensland since travelling there for the solar eclipse in 2012, and it seemed the perfect setting for my guerrilla scientists, who are trying to continue life-saving research with no funding or infrastructure. I enjoy writing about the nitty-gritty side of science, and this story fits into that theme pretty neatly.
2. What science fictional technology do you wish we had now?
Matter transmitters. I'd love to be able to instantly visit friends around the world. I'd like to think it would be better for the environment than flying, although I might need to ask Sean Williams about that.
3. With all these scary climate events happening at the moment, it's sometimes hard to see some light. What gives you the most hope for humanity and the world?
I'm a pessimist by nature, so it is hard! But I take heart in every act of kindness in the face of hardship, especially when it comes from young people. We're continually told that young people are lazy and selfish but I don't see that at all. It might be cheesy, but I think Whitney said it best: "I believe the children are our are future."
--
Ecopunk! - speculative tales of radical futures contains 19 optimistic tales, selected by two award-winning editors, showing how humanity can survive and flourish, despite the looming uncertainty from climate change. The incredible line-up includes some of Australia's best science fiction writers.