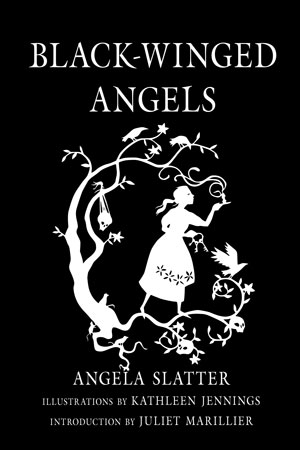 Ticonderoga Publications is thrilled to announce the forthcoming publication of British Fantasy Award winning Angela Slatter's Black-Winged Angels.
Black-Winged Angels is a collection of 10 incredible contemporary retellings of fairy tales, and will be available in a limited hardcover edition illustrated by the multiple World Fantasy Award nominated Kathleen Jennings.
The collection will feature an introduction by the multiple award-winning Juliet Marillier and be published in August 2014.
Black-Winged Angels comprises ten reworked/reloaded fairytales for adult readers, several available for the first time in Australia.
The book will appeal to fans of Angela Carter ("The Company of Wolves") and Emma Donoghue ("Kissing the Witch").
Angela Slatter's previous Ticonderoga collection, The Girl With No Hands and Other Tales, won the Aurealis Award while her co-authored Midnight and Moonshine collection (with Lisa L. Hannett) made the Locus Recommended Reading List for 2012.
"I'm so delighted to be working with Ticonderoga Publications again to give these stories a very special second life," says Angela Slatter. "Being able to have Juliet Marillier introduce the collection and Kathleen Jennings to illustrate it is the best gift a writer can get!"
Black-Winged Angels will be published as a limited hardcover edition of 250 copies signed by all contributors.
The collection is available for pre-order at www.indiebooksonline.com