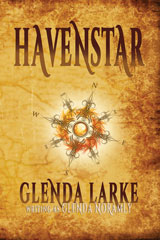 Ticonderoga Publications is extremely proud to announce the forthcoming re-publication of best-selling Australian fantasist Glenda Larke's debut novel Havenstar.
Glenda was born in Western Australia, the daughter of a farmer. Married to a Malaysian scientist, she has grown-up children, and lived in Malaysia where she was actively involved in rainforest conservation. She is now returning to reside in Australia where she will concentrate on her writing. Larke is the author of nine other books, The Isles of Glory, The Mirage Makers and The Watergivers trilogies. Her most recent title, concluding the Watergivers series, is Stormlord's Exile.
Havenstar was first published in 1999 in the UK by Virgin Books to much initial acclaim; the novel then disappeared following the publishing company's collapse.
Havenstar is the story of Keris Kaylen, a map-maker's daughter. When her father is murdered and a mountain disappears, Keris is betrayed by her brother. Forced to flee into the Unstable—the lethal chaos surrounding the eight Stabilities of Malinawar. She finds her safety is in the hands of a man bonded to the Lord Carasma, the Unmaker… and her ordered life is turned upside-down. Her survival will depend on a map and a place called Havenstar.
Barbara Davies review of Havenstar in Starburst: "Havenstar is an original, engrossing page-turner of a fantasy. You want strange and powerful magic, world changing heroism, and courage in unlikely places—it's here. Terrific stuff—this author is one to watch. Starburst rating: 10/10 ."
Alex Wormall in The Alien Has Landed: "This is an exciting, fast-moving page-turner that draws you in from page one and holds your attention until the final full-stop. If you are looking for something new and a bit different, you could do a lot worse than this, one of the best books I have read this year."
"It's an incredible novel, both for current Glenda Larke fans and for lovers of fantasy wanting to discover a new world," Ticonderoga Editor Russell B Farr said.
"Having been unavailable for a long time due to the vagaries of the publishing industry, I am incredibly proud to be able to be involved with bringing this fantastic work back into print," Farr added.
Havenstar is scheduled for publication in May 2013. The novel will be available in limited edition hardcover, hardcover, trade and ebook editions.
The hardcover and limited hardcover can be pre-ordered at http://www.indiebooksonline.com/catalog/