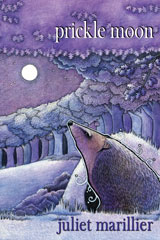 We're pleased to announce that the limited edition hardcover of Juliet Marillier's Prickle Moon is now available for pre-order.
100 copies signed by Juliet Marillier, Sophie Masson and Pia Ravenari.
Introduction by Sophie Masson, cover illustration by Pia Ravenari.
This book collects 14 tales, including Juliet Marillier's very best stories, and 5 stories written for this collection.
Juliet Marillier is a three-times winner of the Aurealis Award for fantasy novel. Publishers Weekly calls her "a fine folklorist and gifted narrator".
This limited hardcover will ship in February 2013, 1-2 months in advance of trade editions.
Pre-order this limited edition at http://www.indiebooksonline.com/catalog/product_info.php?products_id=140