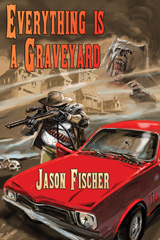 A collection like no other. Think of Mad Max meets Australian megafauna and you're part way there..
"Fischer's enthusiasm for Ozploitation is infectious, and it's hard not to be charmed by his combination of horror and familiar Australian tropes. It is a pleasure to see so many lovingly crafted horror tales in outback settings." - Aurealis Magazine
---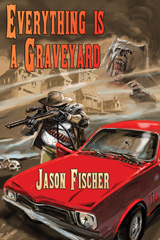 Jason Fischer's debut collection Everything is a Graveyard get a very thorough review by Jeff Ritchie at Scary Minds. In addition to its rating of 10/10, we are chuffed to read
"...arguably the best release of tales to chill by this year. A very solid collection of post apocalyptic stories that have a uniqueness about them that will provide you with hours of entertainment..."
You can read the full review at http://scaryminds.com/reviews/2013/book182.php
Everything is a Graveyard is available in three editions
Jason Paulos has done a amazing job on the cover to Jason Fischer's Everything is a Graveyard. You won't be able to buy the book until October 2013, but we couldn't keep this wonderful art under wraps for that long.