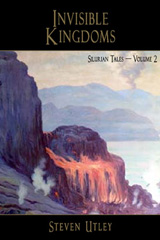 Invisible Kingdoms, the final volume of Steven Utley's landmark Silurian Tales, is now available for pre-order for an expected mid-June delivery.
This collection features an incredibly honest and moving introduction by Barry N. Malzberg.
Publishers Weekly described this volume as "intelligent, provocative character- and concept-driven tales, making this collection a treat for readers in need of a challenge".
The text in this posthumous volume was edited by Steven Utley before his untimely passing in January. The cover, selected by Utley, is by the acclaimed Charles R. Knight.
You can pre-order Invisible Kingdoms here at indiebooksonline.
Invisible Kingdoms should be available worldwide at all good online stores by early July.