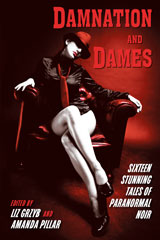 Damnation & Dames is a collection of paranormal noir stories investigating the supernatural shadows surrounding classic crime. Inside this book are sixteen hand-picked stories, all original, featuring good guys, gumshoes, femme fatales, bootleggers, and gangsters: all your favourite noir characters mixed up with ghosts, giant monsters, faerie, vampires, and werewolves.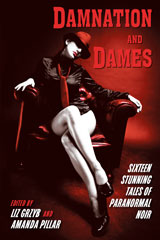 The Canberra Times' Colin Steele reviews paranormal noir anthology Damnation and Dames (edited by Liz Grzyb and Amanda Pillar). We're really chuffed he singles out Penelope Love's story and says
"'Be Good Sweet Maid', set in 1920s Melbourne, effectively blends both elements, as a young widowed private eye struggles with varieties of death"
You can read the full review in Sunday Canberra Times, 10 March 2013.
You can buy a copy of Damnation and Dames at http://www.indiebooksonline.com/catalog/product_info.php?products_id=113
Damien Smith over at Thirteen O'Clock reviews Damnation and Dames, edited by Liz Grzyb and Amanda Pillar, and says many good things about it. We're especially happy when he says:
"Upon finding, be sure to add it to your collection."
You can read the full review at http://www.thirteenoclock.com.au/damnation-and-dames-review-by-damien-smith/
Ticonderoga Publications is pleased to announce the line-up for the upcoming paranormal noir anthology Damnation & Dames, edited by Liz Grzyb and Amanda Pillar. The anthology brings you sixteen stories of murder and mayhem, monsters and mysterious femme fatales.

Damnation & Dames will be launched at Swancon 37, at Easter 2012 and will be available in trade paperback for $30, and as an ebook in Kindle format after this. The anthology will be available from Ticonderoga's online shop at indiebooksonline.com, and internet bookstores such as bookdepository.com and amazon.com.
Contents:
Lindsy Anderson - The Third Circle
Chris Bauer - Three Questions and One Troll
Alan Baxter & Felicity Dowker - Burning, Always Burning
Jay Caselberg - Blind Pig
M.L.D. Curelas - Silver Comes the Night
Karen Dent - A Case to Die For
Dirk Flinthart - Outlines
Lisa L. Hannett & Angela Slatter - Prohibition Blues
Donna Maree Hanson - Sangue Sella Notte
Rob Hood - Walking the Dead Beat
Joseph L Kellogg - The Awakened Adventure of Rick Candle
Pete Kempshall - Sound and Fury
Chris Large - One Night at the Cherry
Penelope Love - Be Good Sweet Maid
Nicole Murphy - The Black Star Killer
Brian G. Ross - Hard Boiled
Damnation and Dames, our latest anthology of 16 stunning tales of paranormal noir, was launched in Perth and Melbourne over the Easter weekend.
On Good Friday, Marianne de Pierres, best-selling creator of the Tara Sharp series, launched the title at SwanCon 37 in Perth. Co-editor Liz Grzyb and contributor Pete Kempshall were on hand to sign books for a fantastic audience.
Today, Notions Unlimited Bookshop in Melbourne hosted the east coast launch, where Kirstyn McDermott did the honours. Co-editor Amanda Pillar was in attendance, along with a star-studded audience.
In an attempt to stir up some east-west rivalry, we're happy to reveal that the Perth launch sold the most copies!
(photos available below)