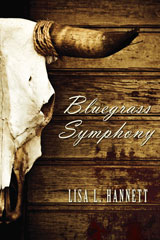 Lisa L. Hannett's fabulous debut collection, Bluegrass Symphony, has been shortlisted for the World Fantasy Award for Best Collection.
Congratulations Lisa and good luck!
We're also chuffed that Kathleen Jennings has been nominated for Best Artist, and next week we'll be revealing the fantastic cover artwork she has contributed to the forthcoming Hannett/Angela Slatter collaborative collection, Midnight & Moonshine.
The full list of Best Collection finalists are
•  Bluegrass Symphony, Lisa L. Hannett (Ticonderoga)
•  Two Worlds and In Between, Caitlín R. Kiernan (Subterranean Press)
•  After the Apocalypse, Maureen F. McHugh (Small Beer)
•  Mrs Midnight and Other Stories, Reggie Oliver (Tartarus)
•  The Bible Repairman and Other Stories, Tim Powers (Tachyon)
Congratulations and good luck to all of these incredible talents.
All of the World Fantasy Award finalists can be found at http://www.wfc2012.org/pr-wfawards01.html