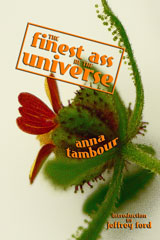 The fabulous Farren Miller reviews Anna Tambour's collection The Finest Ass in the Universe in the latest Locus (October 2015). It's a great review, and we're especially chuffed when she says,
a ventriloquist's delight, invoking a multitude of voices, places, and styles ... yet one master chef made the whole banquet.
You can read the full review in Locus Magazine.
The Finest Ass in the Universe is available in hardcover, paperback and ebook http://www.amazon.com/The-Finest-Universe-Anna-Tambour/dp/1925212165